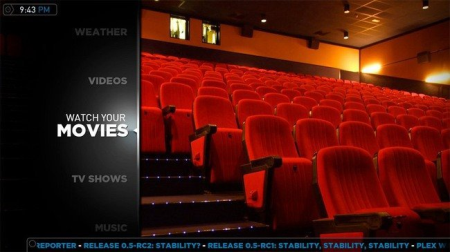 File Size : 82.1 Mb
Plex Media Server is an application that allows you to make your PC media server.
After installing the program and make the necessary settings, you'll be able to access muldia files with other computer devices. It is very convenient, for example, if you have several computers at home and want to listen to music or watch a movie, being on another PC. There is no need to transfer files with an external drive. When using Plex Media Server, access to all available information is provided directly.
The program has a nice user interface, which also affects the convenience of its use. a separate folder can be selected for each type of media content to which will have access to other members of your small network. Configure all necessary configuration is performed via a web interface. In addition, special plug-ins can be supplied if you wish, you can connect to a computer anywhere in the world using the internet. The application is cross-platform - runs on the operating systems Windows, Linux, Mac OS and Android.
available for different platforms;
It allows access to the contents of the computer, not only over a local network, but also via the Internet;
It makes it easy to view videos stored on your computer hard drive with SMART TV;
It has an attractive user interface.
NEW:
(Web) Updated to 4.59.2
FIXES:
(Agent) The Plex movie agent was ignoring IMDb ids inside NFO files during matching.
(Analysis) Music file bitrates contained bitrate for more than just the audio track (#10068)
(Collections) Respect limit when creating collections from the advanced filters screens (#12622)
(Collections) Shared smart tv collections could appear empty (#12642)
(Extras) The TV show extras hub would disappear after playing one of the extras (#12799)
(Hubs) Disabling the top pinned Recently Added hub would prevent the Merged Recently Added hub appearing (if preference was set) (#12625)
(Hubs) Hubs relying on ratings would not work as expected when not using Rotten Tomato ratings (#12588)
(Hubs) Merged Recently Added would not appear for both movies and home videos (if both were pinned, and the preference was set) (#12632)
(Library) Searches including original titles weren't working.
(Metadata) Genres from embedded movie tags could contain unwanted whitespace.
(Music) Aural fixations were broken for TIDAL subscribers w/o a full Plex Pass (#12812)
(Music) If genre preference is "Plex Music" don't read genre from tags (#12812)
"(Music) Scanning multi-disc albums couldxC2_result in split discs."
(Network) DNS lookups could fail on some Linux systems that rely solely on systemd-resolved (#12791)
(Statistics) Bandwidth usage by device could be logged under a global value instead of individually for each device (#12805)
(Utilities) The Plex SQLite utility failed to launch on FreeBSD systems (#12796)
DOWNLOAD
https://nitroflare.com/view/6AE7E27C882E40E/9omeb.Plex.Media.Server.1.23.5.4841.rar